Lord of the Rings: the exhibit [Saturday, Oct. 09, 2004, 2:31 pm]
Well. Yesterday was our wonderful trip to Boston to see the illustrious Lord of the Rings exhibit at its US Premier location: The Boston Museum of Science. I was super excited!
We arrived at the Museum just in time for the 1:15 "showing". Yeah, you could only go into the exhibit at certain times, it was rather strict. And once you left, you couldn't go back in. Plus it was almost $20 per person, and with a family as large as mine, that was a lot of dough. But the worst part was that they wouldn't let me take any pictures!!!! I was upset about that. But those were really the only negative things about it.
Let's move on to the positive things. To attempt to build up your enthusiasm, I'll show you some of the same things that built up mine after we arrived: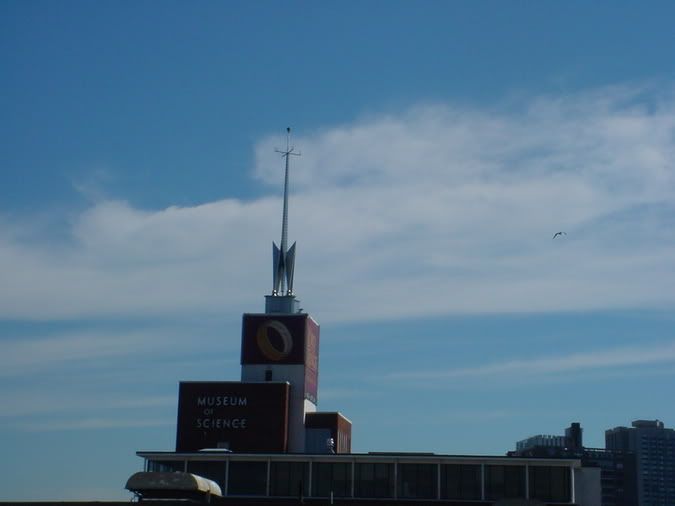 This is the top of the Museum. If you look carefully, you might be able to see the ring that's been painted onto it, despite the blurriness of this shot.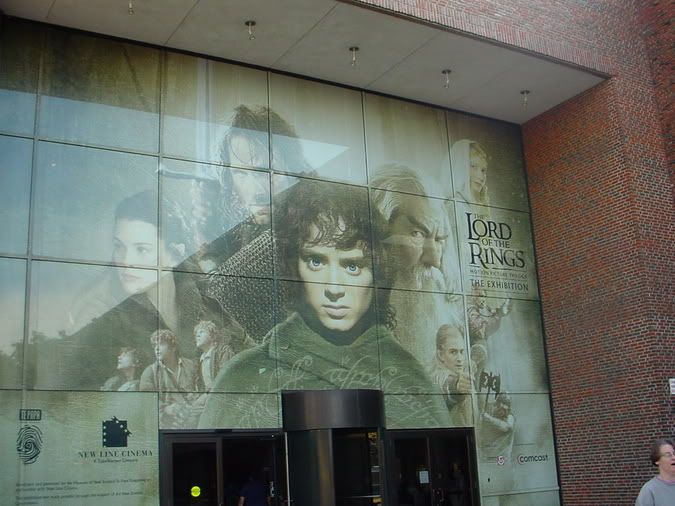 And THIS is what the entrance of the building looked like!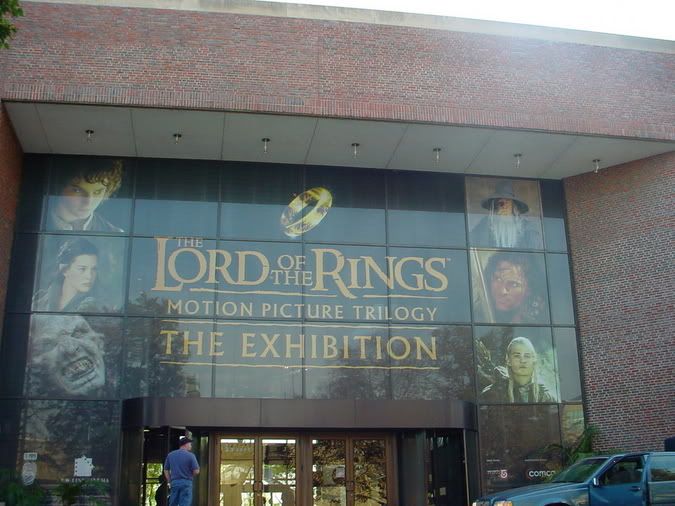 This was the other entrance. Sorry about the glare. Hopefully you can still get the general idea of how decorated it was.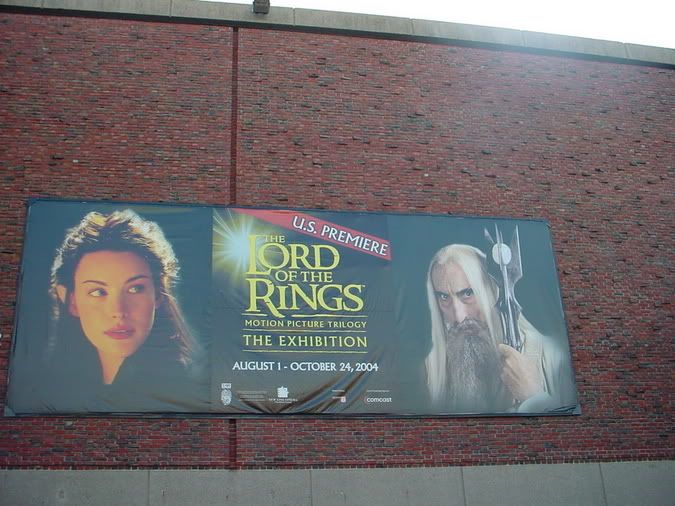 One of the many signs decorating the rest of the building's exterior.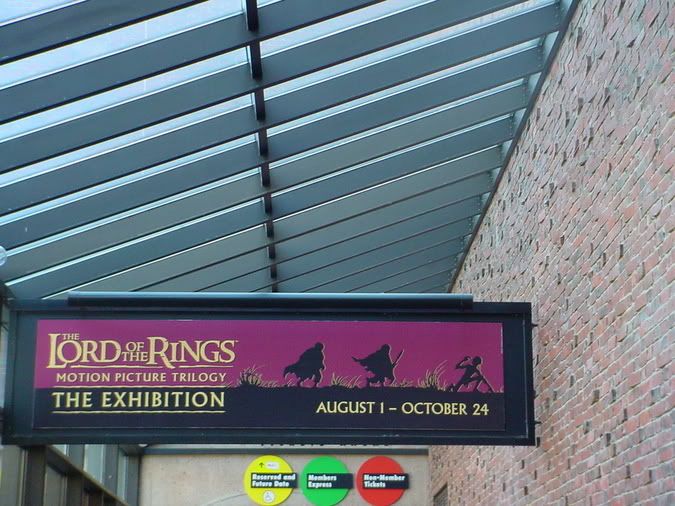 One of the first signs inside the building that pointed us in the right direction.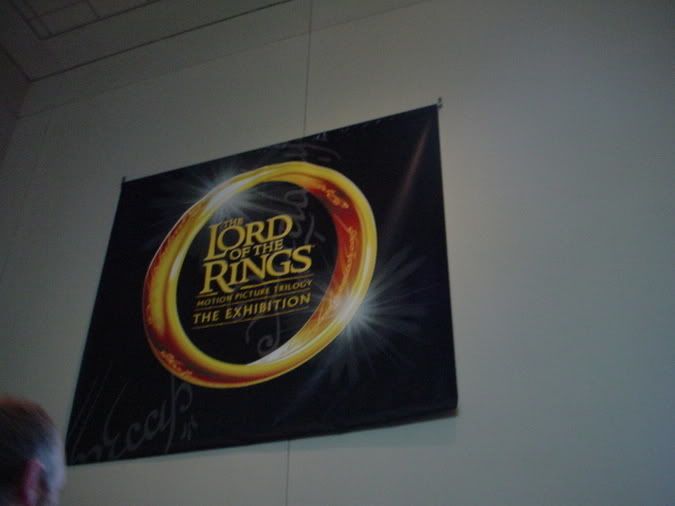 Yet another lovely decoration.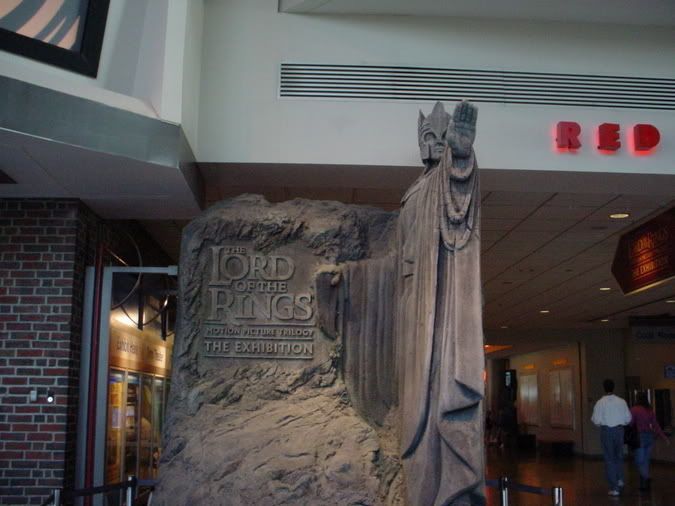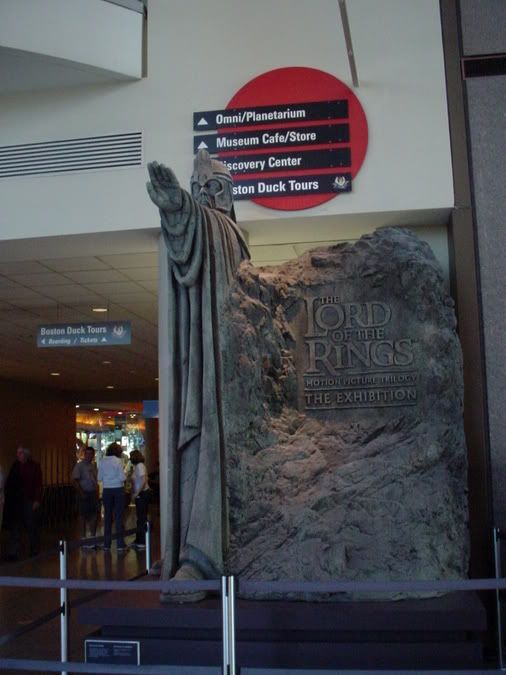 And these were my favorite decorations of all. How original!
Get the general idea? Good, because I don't have time to upload anymore pictures of signs, and these crappy digital pictures don't do it justice anyway.
And this is where the photography had to stop. I really wish I could've taken a ton more in the exhibit, but alas, pictures were absolutely prohibited (as well as "any weaponry associated with the film's characters". That one made me laugh.)
The first thing we saw as we entered the room was a giant Cave Troll. He was scary. There was also a smaller model in another part of the room that, um, wasn't wearing a loin cloth. That was even scarier.
*ahem*. But all together, it was an AWESOME exhibit! Everything was collected in a huge, dimly-lit room. There was a display case for every single major character, containing costumes, jewelry, weapons, and other stuff. I got to see Aragorn's sword from "Return of the King", Gandalf's staff, Galadriel's beautiful costume (and ring), Frodo's mithril shirt, a full-size Ringwraith costume, Gimli's armor, and a whole line of different Orc and goblin outfits.
There were also full-size models of Sauron, and the Orc that killed Boromir. Speaking of Boromir, I got to see his extremely lifelike dummy, laying in the elven boat. There were also copies of just about every form of weaponry that the movie contained: chain mail, elven swords, human swords, hobbit swords (like Sting!), dwarf axes, orc swords, elven bows & arrows (Legolas!), etc. etc.
And of course, there was the One Ring. I almost missed it, because it was hidden away in this little dark room, with sound effects playing in the background, and "fire" and the Elvish words from the ring being projected onto the walls. The Ring was in a display in the middle. That was one of the coolest parts.
It was incredible. I felt like I was walking through a Middle Earth history museum. Everything was so real - all it lacked was the actors. (SPEAKING OF WHICH: if we had gone next week as planned, we would have been able to see SEAN ASTIN as he visited the exhibit!!! Gosh darn it.)
Aside from all the movie props, there were a few interactive things as well. There was one place where we could sit on 2 different benches against a green background, and on the screen we would appear different sizes (just like Gandalf and Frodo did). They'll even sell you pictures of it for $5, but I didn't buy any.
My favorite was the talking height chart. It showed the different heights of the races from Middle Earth, and when you stood against it, it told you what you were. When I did it, it said: "At this height it's hard to tell. You're either a girl elf or a boy orc. Take your pick." I think I'll be a girl elf, thanks. Most of my brothers were hobbits, except Timmy who was an Orc, *snickers*.
But yes, overall it was a wonderful experience, even though I couldn't preserve the memories through photographs (no, I'm not still bitter about that, *cough*). At the gift shop, I got a FotR key chain, and decided to finally get myself some elf ear tips. But they were kinda cheap - they weren't even skin-colored, so they're way too light, and are obviously fake, unless I cover them almost completely with my hair. You'd think that after viewing thousands of props that were really used in the movie, they could at least sell elf ears that were somewhat realistic-looking! Oh well. Galadriel's not my favorite female character anyway.
So, despite the aforementioned issues, this was a wonderful exhibit, and it will be leaving Boston on October 24th. So if it happens to arrive in your area sometime, definitely go visit it! It certainly brought the movies to life, and made me wonder if maybe Middle Earth is a real place after all ;-)
*Laura*
PS: Yes, erunamagrnlf, I was thinking about you and all my diaryland/LotR buddies while I was there! I wish we could've been able to go together...
Miss anything?
Vitality - Tuesday, Aug. 11, 2009
Soulfest 2009 - Sunday, Aug. 02, 2009
Politics and Poverty - Friday, Jul. 24, 2009
Michael Jackson - Monday, Jun. 29, 2009
Elegy for Spotty - Wednesday, Jun. 24, 2009