Soulfest 2006! [Wednesday, Aug. 09, 2006, 5:19 pm]
Well, I still have a long way to go in terms of concert photography. But I still came up with a few good shots from all this. So when I do get a good camera, I'll at least have some experience to go on.
By the way, prepare for a long entry.
Soulfest 2006 was the first time that I decided to wear earplugs to concerts, and I'll tell you, it helped A LOT. It's really hard to enjoy yourself when your ears are being blasted off. Maybe I just have sensitive hearing, but I really found it much more enjoyable to actually hear the words that were being sung, and not wake up with a headache the next day. Plus I'd really rather not be wearing a hearing aid by the time I'm 30.
So, the main stage is mostly where I hung out. Here's a shot of all the people who were too boring to get close to the music ;-) A lot of people just camped out there and watched from a distance, which I'm sure was fun too.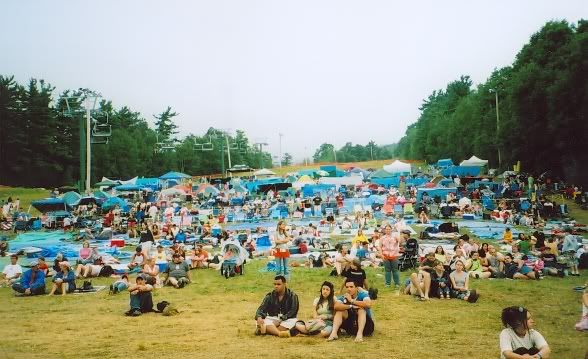 Anyway, since I'm a chronological type of person, I'll start you off with day 1. The first concert I got to see was Barlowgirl: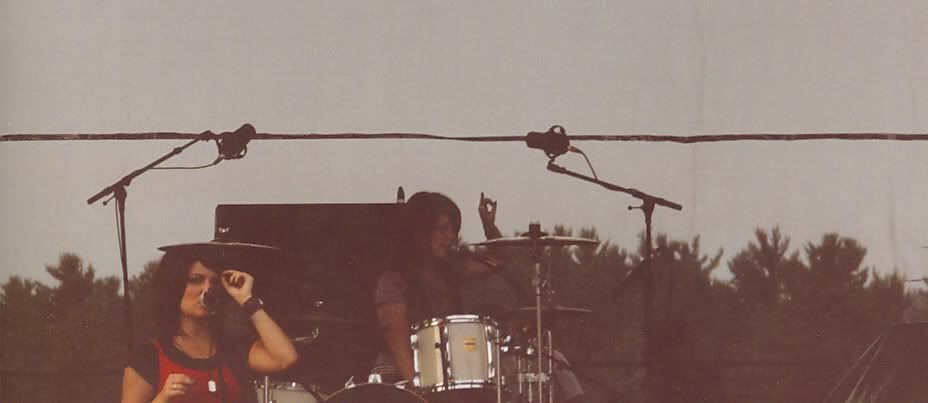 I really didn't know many of their songs - in fact, I only knew the last one ("Never alone"). Still, I admire their willingness to take a stand on things, to be honest, and to follow God's leading. Plus a band of sisters is just incredibly cool in itself.
Next up after them was Jeremy Camp:
He put on a good show. He smiled a lot too, which was refreshing. It's easier to enjoy yourself when you can tell that the band is having fun too. I'm not a huge Camp fan, but I still enjoyed the show, and once again, appreciated his openness about things.
After that, there was a candlelight service, which was awesome. The entire hillside was just lit up with candles and people worshiping. I tried to get a quick snap-shot, but ended up with a photo of the two guys standing behind me who I didn't know. So just take my word for it - the place was beautiful.
But the highlight of the evening was: Audio Adrenaline. And it really sucks that I didn't have 400-speed film with me, because these guys ROCKED.
Mark Stuart is a crazy man. But he looked like he was having the time of his life, so it was hard not to go along with it. They're a great band - and they did some awesomely classic songs, like "Big house," and "Chevette," as well as rocking ones along the lines of "Mighty Good leader," and "DC-10." At this point, it was one of the best concerts I'd seen.
On day 2, KJ-52 started things off for me. It was the first rap concert I'd ever seen, and it was awesome!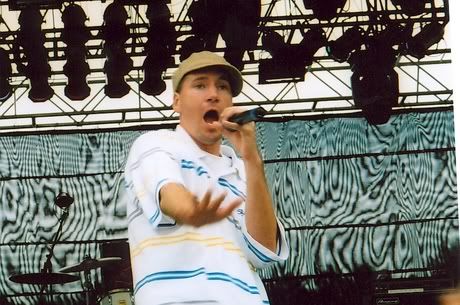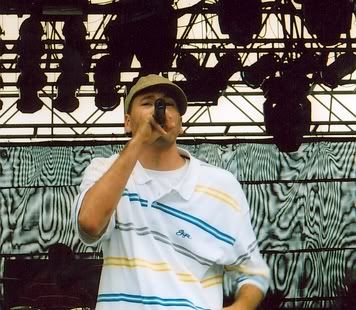 The guy is incredibly hyped up, and he really gets the crowd involved, which is great. Not only is he energetic, but he's very funny. He did this impromptu rap about random objects given to him by the crowd - one was this really ugly cow hat. I don't remember what he rapped, but I do remember that it was funny. And I really admire the guy for the things he says about modern hip-hop - how he's not afraid to be cussed out or lied about for saying what's right.
Next - was Kevin Max.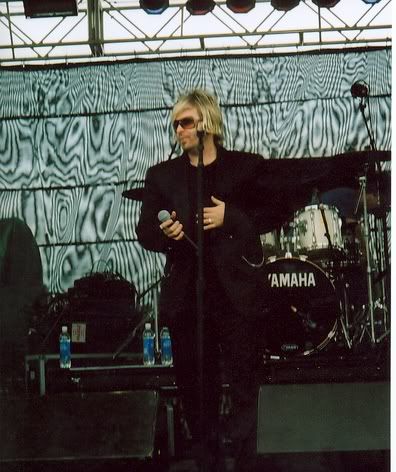 He was kinda - I dunno..."out there." He just struck me as a very introverted singer. Not that there's anything wrong with introversion - I just got the impression that he was singing to himself the whole time. He did try to be funny and say a few things to the crowd, but it didn't do much considering there was hardly anyone there. This is the only show that I was able to get all the way to the front at. I hate to say it, but I wonder if the only reason Kevin Max still gets festival dates like this is because he used to be in dc talk. It's not that he's a bad singer, or that his music isn't good - but he's merely a shadow of his former self, in my opinion. At one point he was like, "I don't really talk to Jesus as much anymore, but I'm trying. I still believe in him, though." Kinda caught me off guard - I don't think he really knew for sure what he was trying to say.
Tammy Trent was next: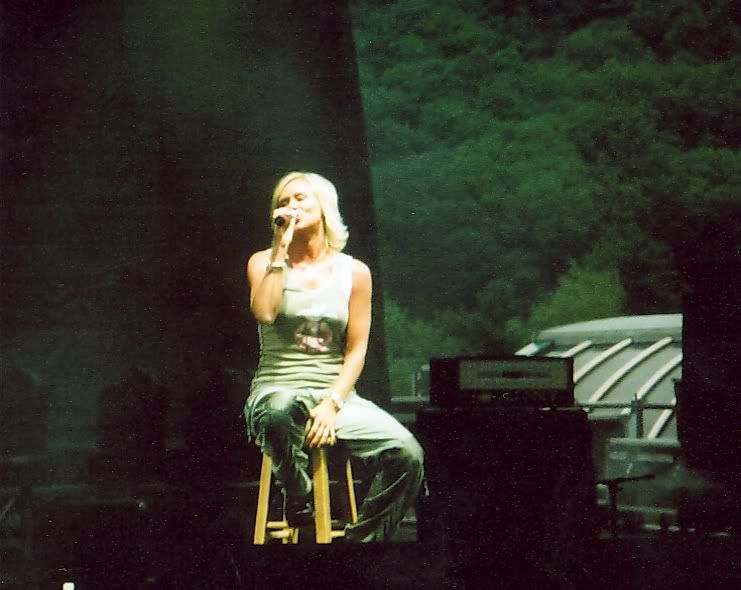 I didn't get to stay for the whole show, but what I saw of it was really good. Even though I'm not into pop as much, I still think she has a good voice, and the story she shared about her husband's death was so sad. It takes a lot to be able to get up on stage and talk about things like that, so I admire her faith very much. On top of it all, she was very witty at times.
And then came - Superchick!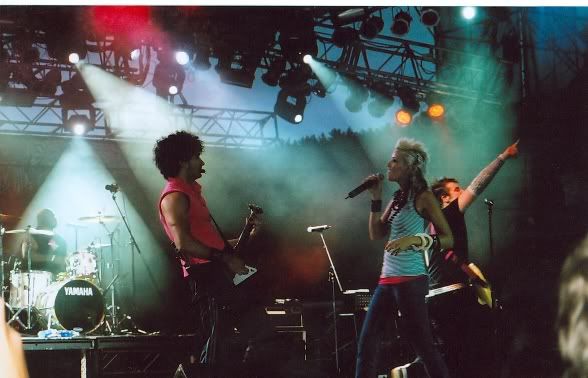 Man, I would have to say that that top one has to be the best concert photo I've ever taken. It was just the right shot at the right time, which doesn't happen very often. Anyway, Superchick was pretty darn good. They're not my favorite band ever, but they did some really good songs, and I liked their attitudes toward dating. To be honest, my main reason for going so early to this concert was to get a good spot (which I got) for the next one, which was...
The Newsboys:
Once again, I could have had better film, but this was my most anticipated concert of the weekend, and the boys didn't disappoint. I think they did a nice job blending worship with their older classics, but I still wish they had played more of their old originals. "Entertaining Angels" and "Breakfast" were awesome! Peter Furler then shared what was on his heart: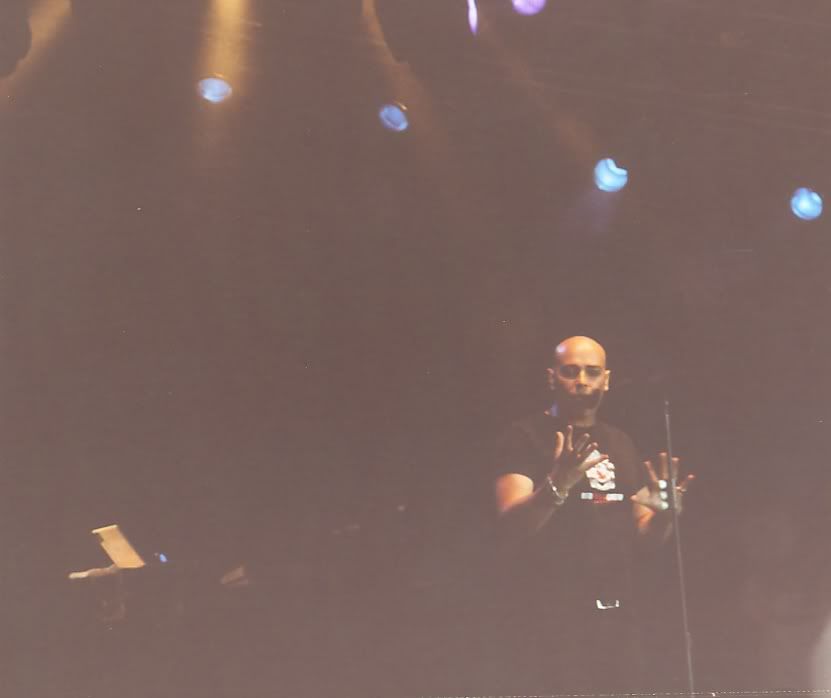 He said (basically) "It's hard to believe I've been in this band for nearly 20 years. I was 3 when we started." Later, though, he was very honest about living the Christian life, and not simply sitting on your salvation and doing nothing. Even though I'd heard things in that vein before, it was still challenging. Hearing a personal testimony does so much more than just being preached at. I love the Newsboys. They're pretty much the coolest band ever, in my mind.
Next day's concerts were started off with Downhere, one of the few bands I'd seen play once before Soulfest:
These boys rocked. The two lead guys are incredible singers, and I just love the lyrics they write - they're optimistic and worshipful, without being sappy. And you can tell the guys are giving 100% when they play. And of course - can't forget the "rock stars need money" song! I always end up on the baloney side...
Next up - I went off to see a local band that I've seen probably 8 or 9 times before. The Kingpin Wrecking Crew. It was indoors, I got there early, and ended up with a spot on the balcony directly over Joe's turntables, which let me get some very unique angles on things: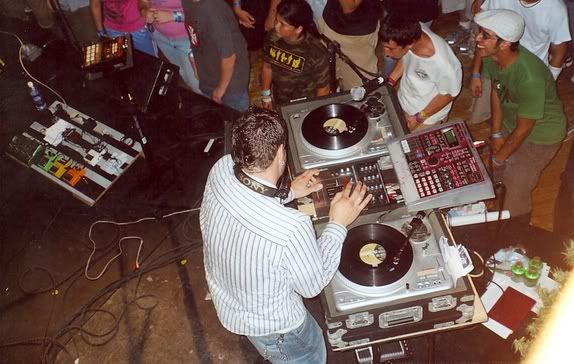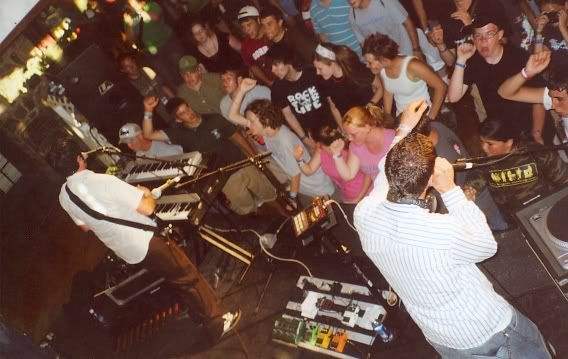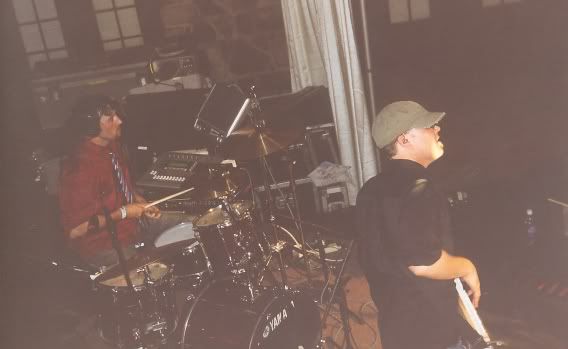 I love these guys' sound. It's kinda slow at times, but all the sound effects they use, and the rap/dj stuff adds a whole lot to their music - they're much more than just a rock band.
Later that night, I went off to see the Apologetix. They were pretty good, although their lead singer came across more nutty than funny to me. Their lead guitarist, however, was hilarious: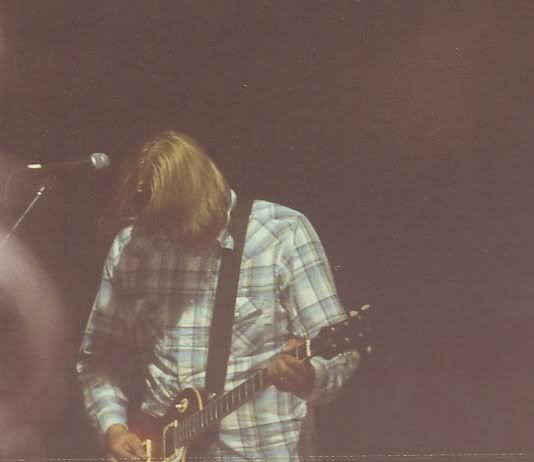 Okay, so before they played, there was this other band up there whose set I caught the last few minutes of. This was one of those bands whose lead singer doesn't really...sing. He just kinda makes this screaming noise into the mic, which I assume contains some lyrics somewhere. Now, I have nothing against screaming in music, as long as it's well-executed and well-placed. But when that's the ONLY thing coming out of the guy's mouth - it gets old really fast. So, the Apologetix guitarist said something like this at one point: "You know what's weird? This mic was wet when I got here. I think it has something to do with that band before us that played the same song 6 times - did you see what that guy did to this mic?" [does his impression of the screaming guy] "I don't know, but I think it's phlegm. This mic is probably a close relative of him now, if they did a DNA test..." I laughed so hard...
Oh, and they did a new song! It's to the tune of a popular U2 track, and the chorus goes like this:
"Shalom, shalom. I'm at a place called Jericho!"
Funny stuff.
Next up was...Skillet. I learned the hard way that the second "row" is probably not the best place for someone like me to be at a hard rock show like this. I mean, they had to place security guards in the crowd, and I think they threw a few people out at times. After getting jostled around and slammed into several times, I finally attempted to move back (not that it was hard to move considering all the shoving that was going on) until I was about 20 rows back, and I was actually able to enjoy the show from that distance, without becoming the meat in anyone's sandwich.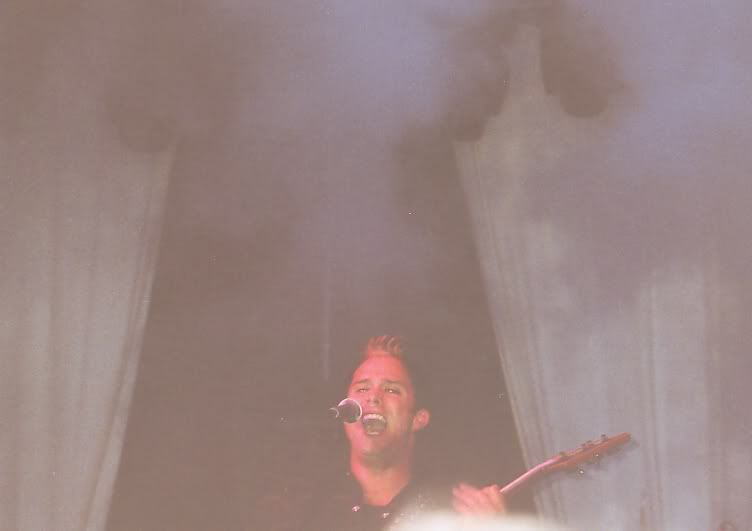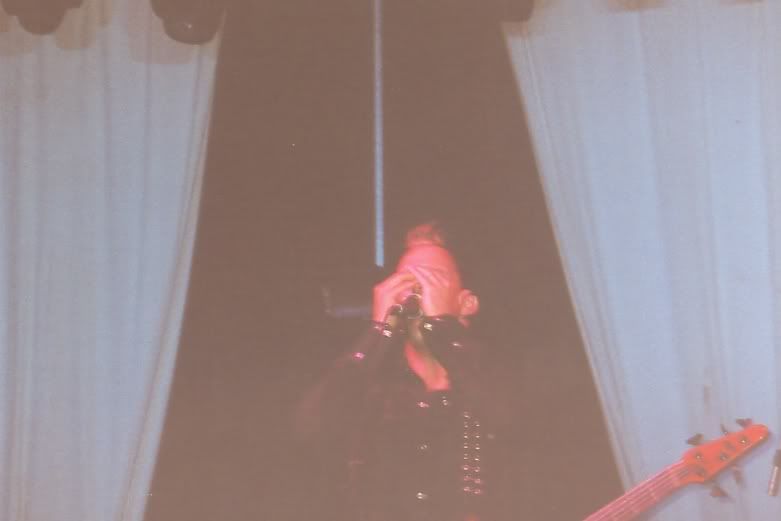 The show was really good - they rocked hard. The thing is, I didn't see a single one of the band members smile the whole time. Maybe that just goes with their image, but I didn't find their music quite that solemn either, so I don't know why they were. Good show though - I just didn't pick up much of spiritual value except "You are my hope."
And on day 4: more rap in the afternoon!
DJ Maj was good.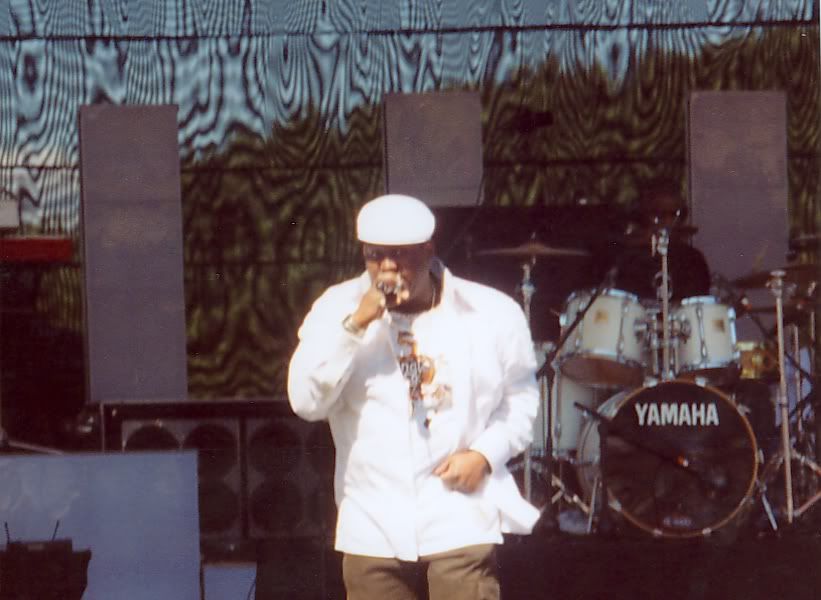 His style of rap isn't quite my favorite, but he still did a good job, and he was just so laid-back too. He even made a joke about Tobymac being short, but then said, "You can tell him I said that if you want - it's all good."
Next up, however, was - John Reuben!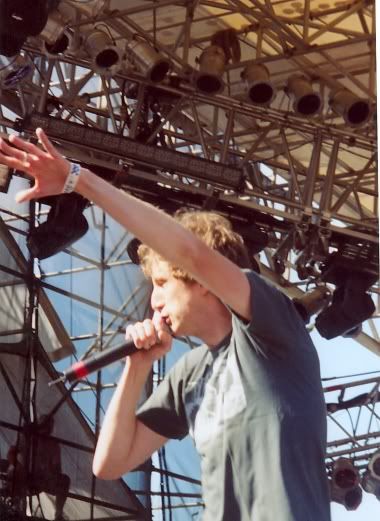 "Reubeeeeeen, what's he dippidy doiiiing?" He was an absolute riot. He really got the crowd involved ("Come on people in the back, don't play stupid with me") and had some of the funniest facial expressions. Man, my arms were tired after that. He had us sing along too, which was fun. And he made funny jokes too, which I can't even remember right now. But he was a blast - I don't think he could be capable of putting on a boring show. And I like his lyrics - he's more into the whole "criticizing society" sometimes, which I don't really mind, especially the way he does it.
Later that afternoon, I saw Kutless.
Sorry this picture is kinda bright. Wasn't my fault though. They're a pretty good band - I wasn't able to get very close to the front though. I actually knew more of their songs than I thought they did. Their lead singer kept asking the audience how they were doing. I mean, once is okay but he did it like 5 times. Oh well. Good show.
After that I saw part of the Chris Tomlin concert, and it was amazing worshiping with that many people in one place - certainly an experience I hadn't had before, and won't soon forget. Unfortunately, no good photos of said concert came out.
But later that night was another of my most anticipated shows of the weekend, at the same stage Skillet played at. I was smarter and stayed back several rows, plus I went with some people I knew, so the whole shoving thing wasn't as bad. It was Pillar!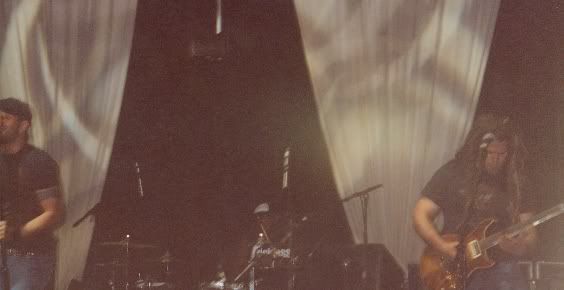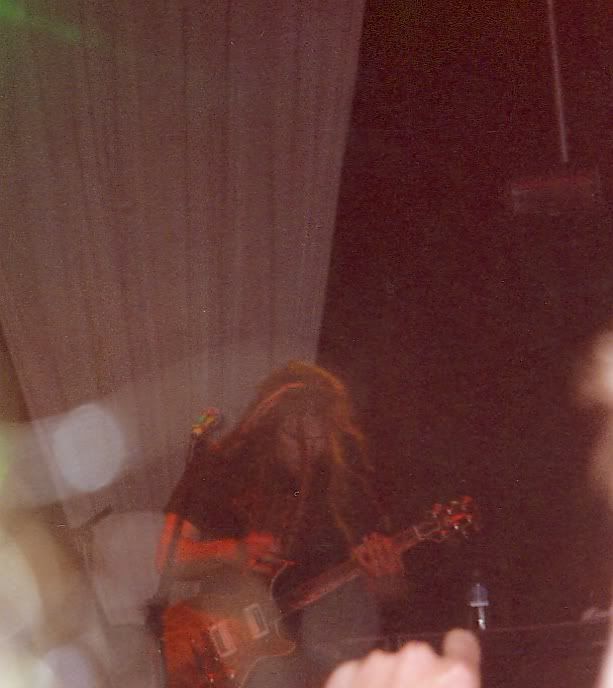 The show ROCKED! It helps that I knew pretty much every song they did, but I really got into it. I think it's a tie between them and the Newsboys for concert that I enjoyed the most. They're just a great band - and they have a new CD coming out soon.
So I hung around afterwards since I heard they'd be signing autographs - and got my jacket signed!!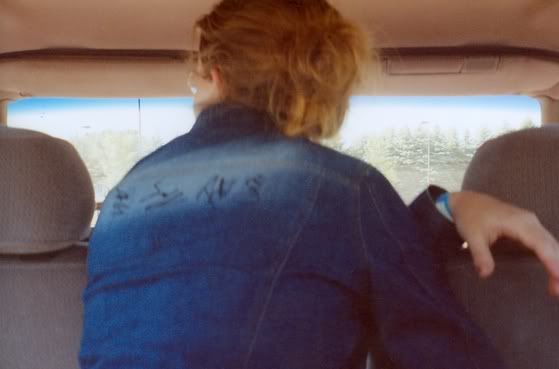 When I got home I wrote "PILLAR" with a sharpie, above it, so people might have some idea what those black marks are supposed to be ;-)
So Soulfest 2006 was a great time, and since 4-day passes for next year's are only $65 if bought this month - I think I'm going :-)
Miss anything?
Vitality - Tuesday, Aug. 11, 2009
Soulfest 2009 - Sunday, Aug. 02, 2009
Politics and Poverty - Friday, Jul. 24, 2009
Michael Jackson - Monday, Jun. 29, 2009
Elegy for Spotty - Wednesday, Jun. 24, 2009