Random snaps [Wednesday, Apr. 04, 2007, 8:48 pm]
For once I have an evening to just sit back and add an entry, since nothing pressing is due tomorrow morning. I just realized that it's been forever since I've done a photo update, and so I think it's high time I uploaded a few. Unfortunately, I haven't really had the opportunity to use my "real" camera lately, so these are all from the automatic, and therefore more snapshots than actual photography.
Mostly, this consists of photos I took when Recycled Percussion came to USM waaaay back in January. Yeah, I'm a little slow on the draw here. Basically, Recycled Percussion is a band that bangs around on old plastic bins and beaten up stuff - as well as random things like ladders and chains. They're very talented drummers though - it was pretty entertaining, I must say: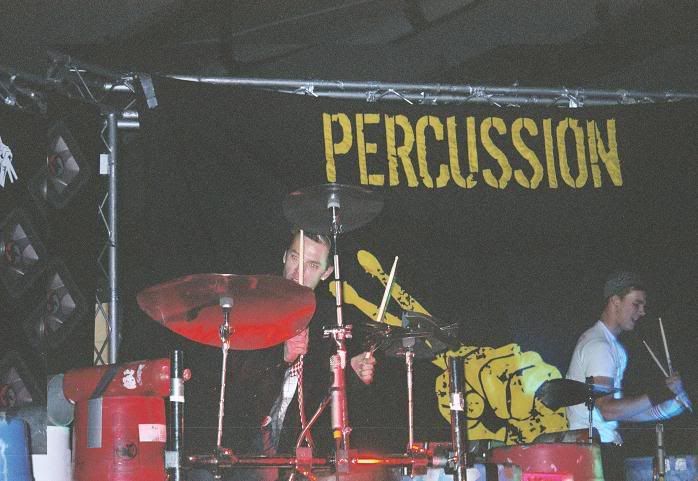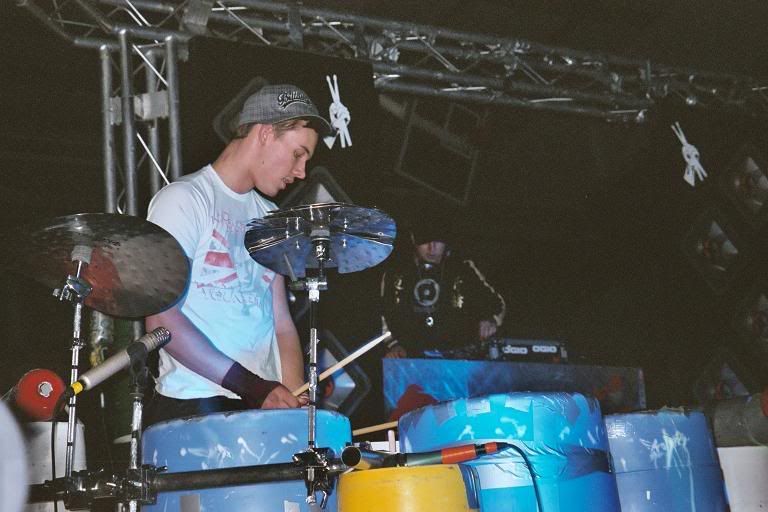 They've got a pretty nice bin collection.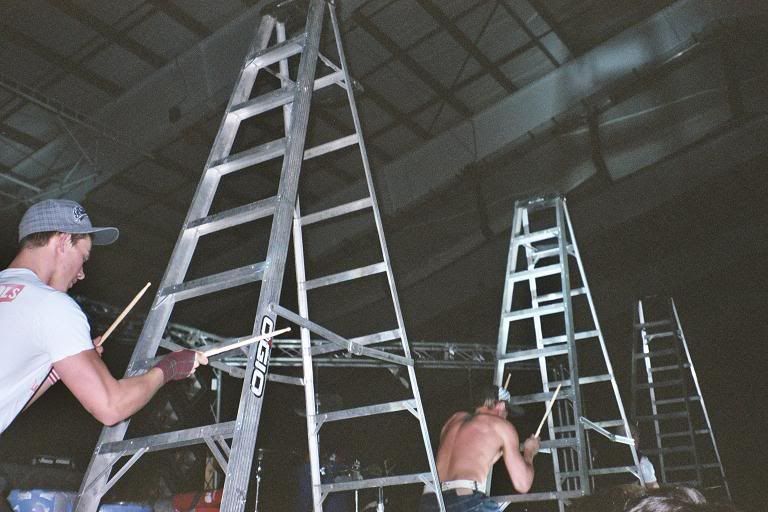 I'd never seen anyone play a ladder before.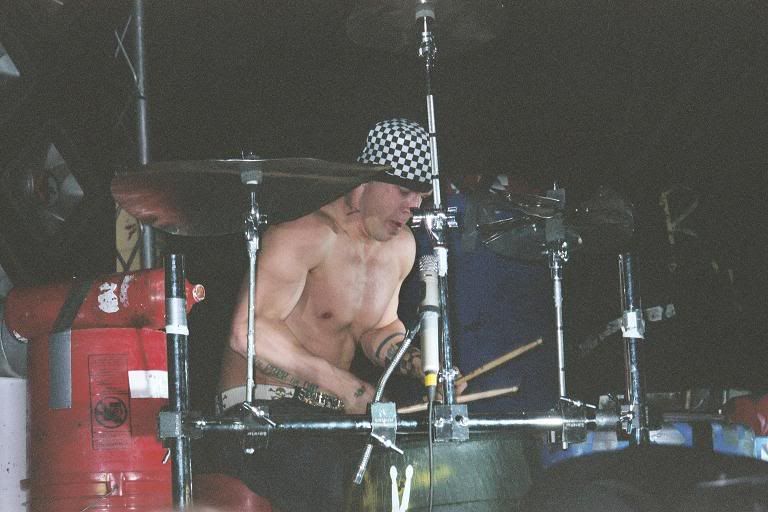 Supposedly the "fastest single-stroke drummer in the world"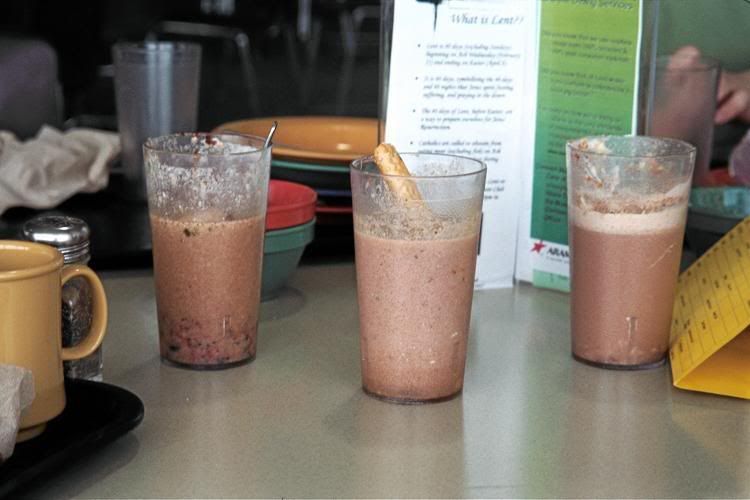 Switching gears a bit, here are some biological weapons composed entirely of cafeteria food. I was simply an innocent bystander of course, so that's why I did the photographic duties.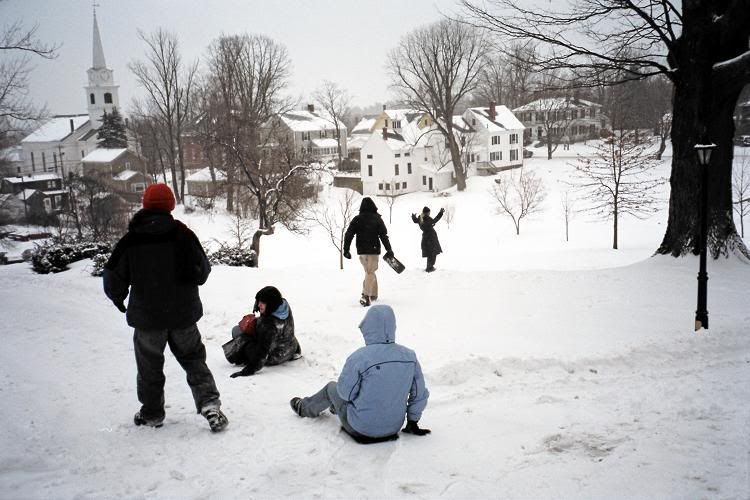 Sledding on cafeteria trays - on Valentine's Day. Fun stuff.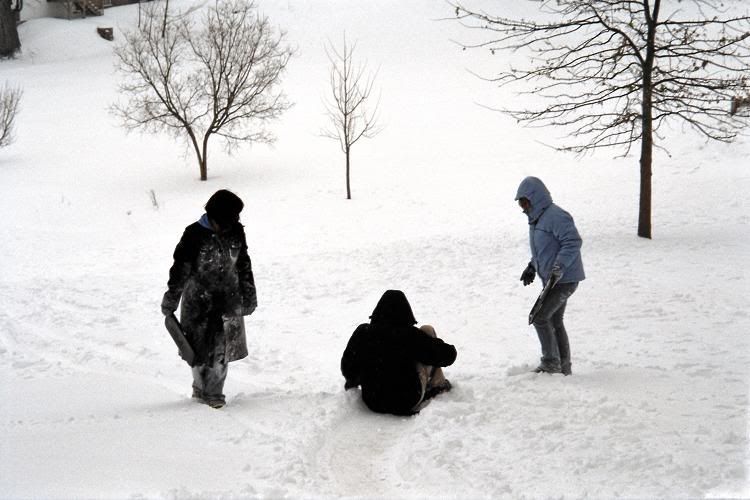 Blazing the trail.
Yep, good times.
So it looks like I'll be taking 5 English classes next semester - all 300-level. That'll be a bit of a challenge, but I think I can handle it - I'll be a senior, after all. Another guy on my floor will be doing something similar, so we'll help each other out.
And I don't know who I'll be living with next year either. But I've decided I might as well retain my current room, since I really have no reason to leave, at least no really important reason. I just need to find someone to live with me, since my roommate has talked about moving to another hall. But we'll see what happens.
If I remember correctly, it's always been that little span of time from the end of March to the middle of April that is hardest on the nerves - tuition, financial aid, taxes, verification, class registration, advising, and now room selection - all within a few weeks. And in a few more weeks it will be finals. That's hard to believe. I'll be fine, as long as I don't have too much fun in the meantime. Man, I'm going to miss this place when I go home for the summer.
Miss anything?
Vitality - Tuesday, Aug. 11, 2009
Soulfest 2009 - Sunday, Aug. 02, 2009
Politics and Poverty - Friday, Jul. 24, 2009
Michael Jackson - Monday, Jun. 29, 2009
Elegy for Spotty - Wednesday, Jun. 24, 2009