"Why is the rum always gone? Oh. That's why" [Friday, Jul. 07, 2006, 5:10 pm]
Dressing up like a pirate is fun, but it's sad when you can't even get your younger brother to wear a bandana around his head just to get into the spirit of things. Ever tried to put a hat on a baby? It usually doesn't stay on long, because the baby just won't leave it alone. That's how it was with him. But at least one person in the family was piratey-looking.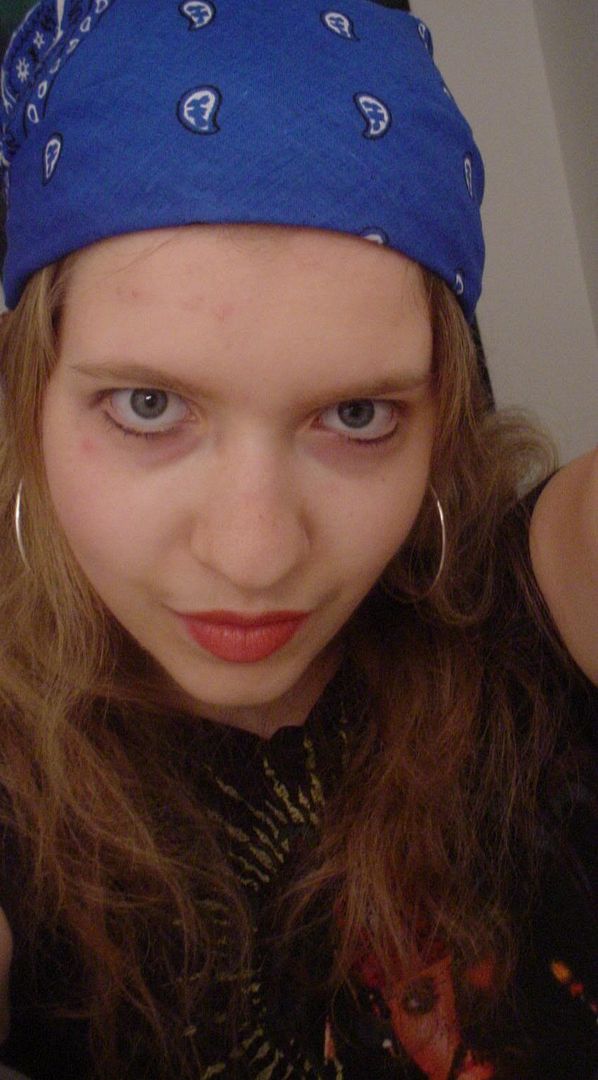 No one else from the family went to the midnight showing though. And then I worked 8+ hours on maybe 4 hours of sleep - probably less than that, actually. As for the movie - and I'll try not to give away any important plot details here.
-It was bigger and more intense than the first.
-It was also darker, creepier, and fantastical, which worked at times, and didn't at others. This sequel basically took whatever semblance of fact that the first movie was based on, and turned it on its ear.
-Captain Jack Sparrow's grand entrance in this one was hilarious. Gruesome, but hilarious.
-I didn't like Elizabeth's character very much this time around. Not that she did much for me in the first movie either. She's good-looking, but doesn't seem very consistent with the characterization aspect of acting. But that's just how I saw it.
-Orlando Bloom was lovely. But a lot more serious.
-Johnny Depp was a riot, as usual ("I've got a jar of di-irt, I've got a jar of di-irt")
-There was some rather surprising character development at times - I won't go into any more details.
-Overall, the plot had a somewhat choppy feel. As if they wrote a bunch of mini scripts and threw them all together to make a movie.
-I can't believe they just left the ending hanging like that! Now how can they put a whole year between the ending of this one, and the third installment?
-At the very end, the entire crowd in the theater cheered (and I did too) to see a familiar face again.
-Speaking of which, one thing that bugs me is that the line between "good guys" and "bad guys" seems much more blurred in this movie, moreso than in the first one. Obviously they aren't trying to make any grand philosophical statements here, but I don't like it when characters keep switching between fighting each other with swords, and getting along fine.
-I very much enjoyed the many subtle references to scenes and lines from "The Curse of the Black Pearl." They're like inside jokes that everyone gets.
-Did I mention Johnny Depp is a riot?
-The stunts and special effects were excellent.
So yes, overall it was an awesome sequel. Definitely didn't fall flat like some Disney sequels tend to do. Just don't bring the kiddos - this one isn't as tame as the first one. Can't wait for PotC 3: At World's End!
*Laura*
Miss anything?
Vitality - Tuesday, Aug. 11, 2009
Soulfest 2009 - Sunday, Aug. 02, 2009
Politics and Poverty - Friday, Jul. 24, 2009
Michael Jackson - Monday, Jun. 29, 2009
Elegy for Spotty - Wednesday, Jun. 24, 2009