Photo experiments [Thursday, Mar. 16, 2006, 5:04 pm]
Well, it looks like it has indeed been a while since I last posted any of my own photos, which is good, because I made a very interesting one last night that I was intending to share.
See, printing color photos is okay, but it's just hard to make it exciting unless there's a little experimentation involved. I was told that one way to get a print that turns out sepia-toned is to print a black & white negative on a color enlarger on color paper. So I tried that with one of my waterfall photos. I didn't get a sepia print, but I did get this: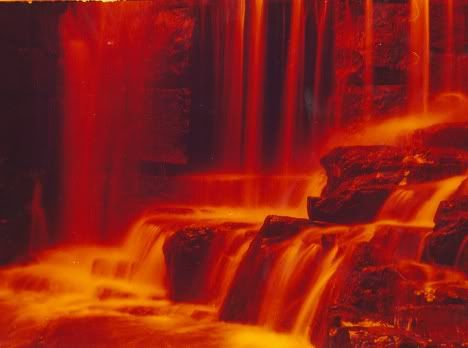 It looks like lava. People were even telling me I should enter it in that juried photo exhibition the school is having. Maybe I will. So of course, I couldn't stop there. I tried it again with a little bit of color variation: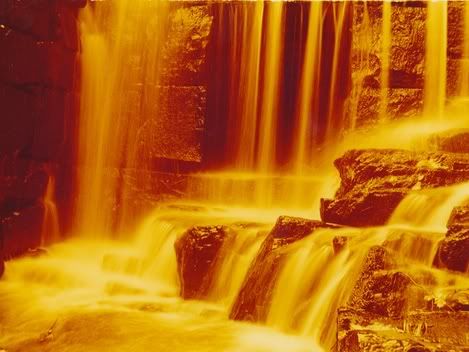 Now I want to see if I can get it to come out blue. Or else just tone down the color a little, so the rocks look somewhat normal, and then burn in the water in red. We'll see if I can find the time. Our final portfolio needs to have 20 matted images - yikes.
Anyway, I'll let you see one of my more "normal" prints as well, just to round things out: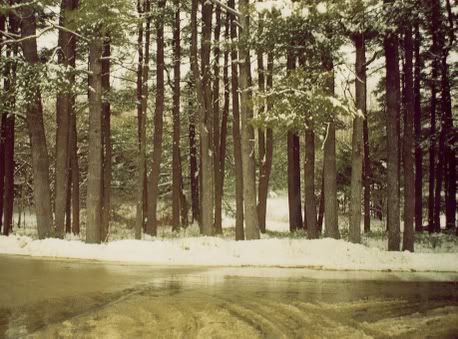 And to close, something I found rather amusing for anyone having a bad day:

*Laura*
Miss anything?
Vitality - Tuesday, Aug. 11, 2009
Soulfest 2009 - Sunday, Aug. 02, 2009
Politics and Poverty - Friday, Jul. 24, 2009
Michael Jackson - Monday, Jun. 29, 2009
Elegy for Spotty - Wednesday, Jun. 24, 2009