Chocolate - a health food? [Friday, Aug. 12, 2005, 10:49 am]
I've been "carpooling" to class the last few weeks with a man from my church who is taking the same class, so it's been fun to talk about the things we've learned, etc. I've also found out he's more of a health nut than I am. I occasionally go out to the vending machines when (and if) we get a break, and he always tells me, "That stuff isn't healthy - if the ingredients list has items on it that you can't pronounce, then it's not good for you."
Well, on Wednesday I decided to be a bad little girl and get a Dove chocolate bar, and he looked back and asked if I could pronounce everything on the ingredients list. And so this is what it said:
"Milk chocolate (sugar, cocoa butter, chocolate, skim milk, milkfat, lactose, chocolate processed with alkali, soy lecithin, natural and artificial flavors). May contain peanuts"
Interesting. Ordinarily the word "lecithin" would have given me some trouble, but fortunately that was mentioned in the nutrition class I took last semester, so the only thing I can conclude from this is: Chocolate is good for you! Yay! So having a large vocabulary can actually make certain products good for you. Amazing
;-)
*Laura*
How about a picture instead of a quote this time?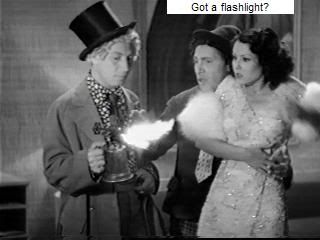 Miss anything?
Vitality - Tuesday, Aug. 11, 2009
Soulfest 2009 - Sunday, Aug. 02, 2009
Politics and Poverty - Friday, Jul. 24, 2009
Michael Jackson - Monday, Jun. 29, 2009
Elegy for Spotty - Wednesday, Jun. 24, 2009